Dragon Watch
a GNOME panel applet for monitoring player status on the Dragon Go Server
Latest version: dragon-watch-1.1 (2006-09-22) -
ChangeLog
(2014-07-22)
---
License
This program is released under GNU General Public License.

Requirements
To compile dragon-watch you need to have the following working development
libraries installed with pkg-config (version 0.17.2 or newer).
libsoup-2.2
gtkmm-2.4
libpanelappletmm-2.6
libglademm-2.4
Newer versions of the above listed libraries might also work.
For Debian systems, these are available from Debian Sid distribution. For Redhat RPM systems, the packages are available from Fedora Extra except for libpanelappletmm.
Download
Source codes of dragon-watch are available as:
Screen shot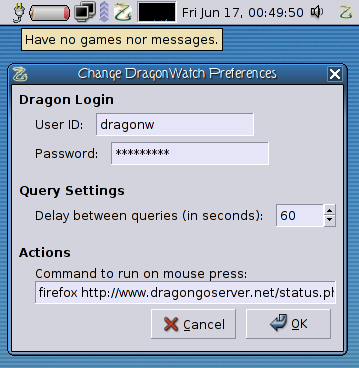 Links
Other monitors for DGS include:
---
Chun-Chung Chen | Codes